Is your website getting found in the search engines?
Download our free guide to learn how to optimize your website and the secrets you need to unlock for the search engines to rank your website higher.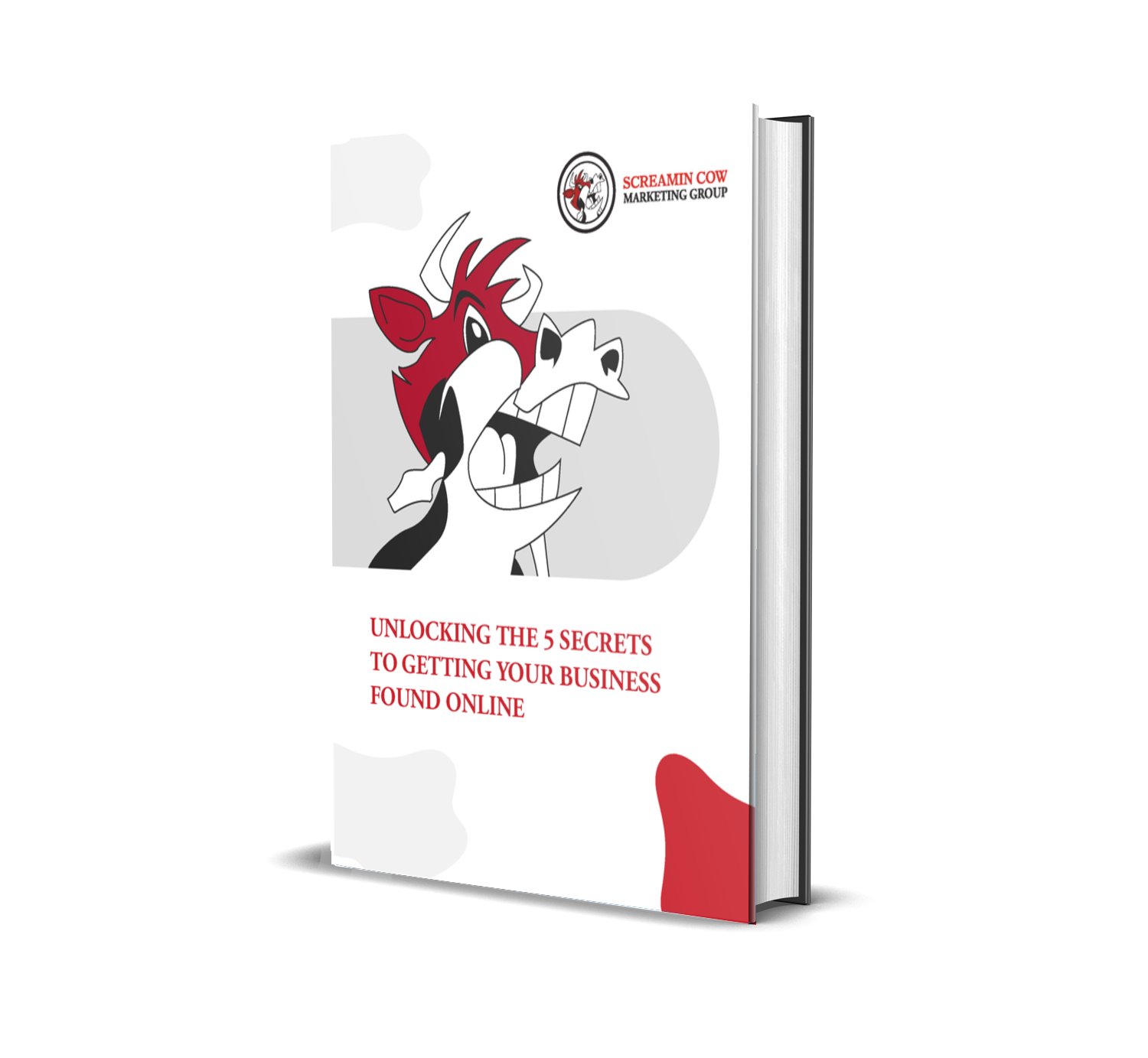 Are you visible to customers who are looking for a business like yours?
The Internet has changed dramatically over the last decade. It's no longer possible to launch a website and just cross your fingers, hoping for people to find it online.
More than 500,000 new websites are created every day. It's a crowded place and there's no reward for businesses who can't be found by their customers.
The first page of the search results in Google shows the 10 websites that they feel are most relevant for the particular search that has been performed. Do they think your website is relevant?
Here's What Our Clients Say About Us!
12 reviews on
I had the pleasure of working with Screamin Cow for my company's digital marketing needs, and I must say, they exceeded all my expectations! From the very beginning, they showed a deep understanding of our brand and its goals, and their dynamic digital marketing services truly made our brand shine like never before. Their team is incredibly dedicated and passionate about what they do, and it's evident in the results they deliver. They crafted a tailored marketing strategy that perfectly aligned with our needs, and the results were nothing short of remarkable. Our brand received increased visibility, engagement, and conversion rates across all our platforms. What I loved most about working with Screamin Cow is that they felt like a genuine partner rather than an external agency. They were always available to listen to our ideas and concerns, and their expertise in the field was evident in the valuable insights they provided. It was like having our own in-house marketing department, but without the usual costs and effort involved. I cannot emphasize enough how much of a positive impact Screamin Cow has made on our brand's success. If you're looking to unlock your brand's full potential and enjoy strategic marketing solutions that yield exceptional returns on investment, I highly recommend giving Screamin Cow a try. Their expertise, creativity, and dedication will undoubtedly leave everyone talking about your brand. Experience the difference Screamin Cow can make for your business – I'm sure you won't be disappointed!
Starnesteam Realty
July 14, 2023
Attention to detail is an understatement on the service I received. I was skeptical because I had been trying to get more and more exposure from Google ads and Google certified with little to no success even after paying another company to tell me what I needed to do and what I needed to do next. I gave Screamin Cow full access to my google profile to see if they could actually get me more leads for my business. Within 24 hours I received a lead. I thought it was just coincidental, but then several more leads came in, which was 3 more than I had over the prior year. They still continue to monitor and make changes as needed to keep me successful. I highly recommend Screamin Cow.
Donna Uhlig
July 13, 2023
Brad Starnz is the Best! His expertise, and experience combined with his positive "can do" approach to solving problems makes all this complicated computer "stuff" work SO much better. Screaming Cow Designs made a BIG difference in my business!!
Trice Alford
July 11, 2023
Brad and his team were great to work with. Our partnership on our new website has been really beneficial. Thanks to the team for continuing to help us move the business forward.
I am so not technically knowledgeable. Brad made it so easy to get what I want done. He helped me with issues of email and our family business website. He also gets the work done so fast. He is my go to guy. I highly recommend him!!
Kerry Aglugub
May 11, 2023
I highly recommend Brad and Screaming Cow Design Studio for anyone in need of a new, modern website. Brad, the owner is super knowledgeable and skilled at both website design and the backend coding. I've worked with Brad on multiple projects over the years and am always thrilled with the results.
I couldn't be more satisfied with Brad from Screaming Cow... I was referred to him by family that had worked with him - regarding a migration issue I was having from my former email provider to my new set up. I could not get this resolved with Google nor GoDaddy - which was extremely frustrating. Brad took this on in no time, and within a coupe days had it all fully sorted out for me. Now I can finally cancel my old GoDaddy account - which is going to save me hundreds a year. Brad was quick to respond, courteous and got the job done - 5 stars all the way!
Jordan Williams
May 10, 2023
We've worked with Screamin Cow to strategise around different UI/UX changes on our platform that we're relaunching. Brad & his team were great to work with and are an integral part of several design changes as we were pivoting our platform. Highly recommend!
Raymond Riley
May 10, 2023
Brad and his team are professionals. Ask great questions, and do quality, quick work.
The Living Stone Boutique
May 10, 2023
Brad is very knowledgeable and so easy to work with! He is very patient and accommodating! I would highly recommend his services!